What are the physical characteristics, characteristics and identification methods of PVC pipes?
Views:4782 Author:Site Editor Publish Time: 2020-06-09 Origin:Site
PVC pipes are a series of mature drainage pipe products, which have been widely used at home and abroad. The product has the advantages of unmatched long life, corrosion resistance, etc.; it is more lightweight in construction, easy to transport and install, and easy to connect. It is widely used in civil construction drainage, chemical drainage, rainwater and other fields. PVC drainage pipe materials and fittings meet the requirements of GB/T 5836.1-2006 and GB/T 5836.2-2006.
1. Process flow of PVC pipe
Production process raw material + auxiliary preparation → mixing → conveying and feeding → forced feeding → cone twin screw extruder → extrusion die → sizing sleeve → spray vacuum setting box → immersion cooling water tank → ink printing machine → crawler traction Machine → Knife Lifting Cutting Machine → Pipe Stacking Rack → Product Inspection and Packaging
2. Physical properties of PVC pipes
Test item standard value test standard, density 1350-1460Q/HDS001-2003-ISO4400-90, Vicat softening temperature ≥80oC, longitudinal shrinkage ≤5%, drop weight impact test 20oC TIR≤10% or 0oC TIR≤5%, Flat test does not rupture, horizontal test does not rupture or leak, connection seal test does not rupture or leak, shading test is opaque, lead, tin, cadmium, mercury dissolution test, VCM content ≤1mg/kg, dichloromethane The methane staining test is qualified, and there is no bad smell.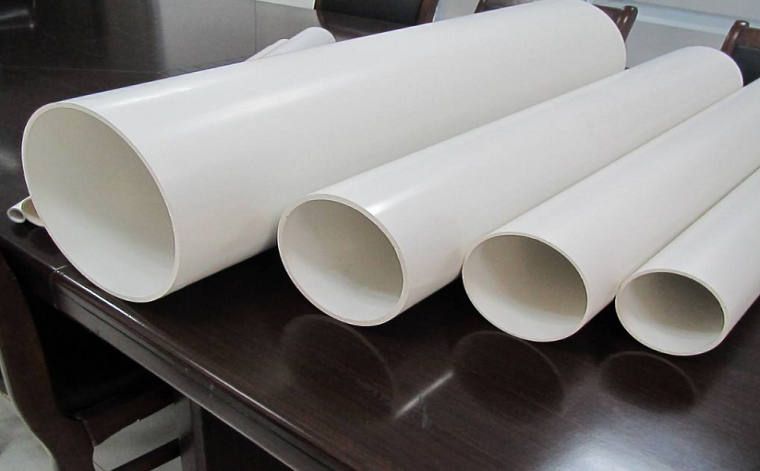 3. Performance characteristics of PVC pipes:
1. The surface hardness and tensile strength of the pipe are excellent, and the safety factor of the pipe is high.
2. Good aging resistance, normal service life can reach more than 50 years.
3. The pipeline has excellent corrosion resistance to inorganic acids, alkalis and salts, and is suitable for industrial sewage discharge and transportation.
4. The friction coefficient of the pipeline is small, the water flow is smooth, it is not easy to block, and the maintenance workload is small.
5. The material has a high oxygen index and is self-extinguishing.
6. The coefficient of linear expansion of the pipe is small, 0.07mm/m. C, the deformation is small due to temperature. The thermal conductivity and elastic modulus are small, and the frost resistance is excellent compared with cast iron drain pipes.
7. The connection of pipes and fittings can be bonded, the construction method is simple, the operation is convenient, and the installation efficiency is high.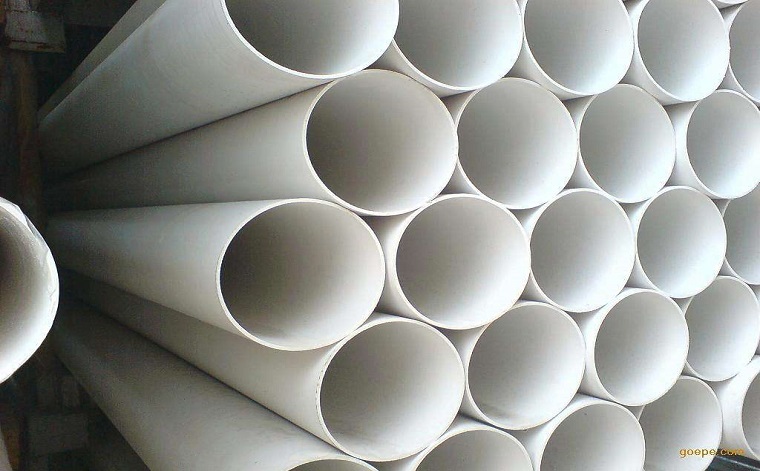 Fourth, how to distinguish PVC pipes
1. First look at the surface finish and whiteness.
2. Throw samples, and those who are easy to break are generally high-calcium products. Of course, it is okay if the price is in line with your requirements.
3. Take the sample and step on the edge of the pipe with your feet to see if it can crack or the elongation at break after cracking.
4. The weather resistance is very troublesome. The most direct way is to get a place with high temperature and high light for a few days to see the rate of surface change, but it is a waste of time. Just look at the first 3 items.